jincustom.com will be a whole new site in a few months! For now use the full address www.jinsaotomesdangeroustoys.com instead

Welcome to my site, Jin Saotome's Dangerous Toys. It features hundreds of custom action figures from
lines like Marvel Legends, Halo, GI Joe, DC Universe, Marvel Universe, as well as characters from all
sorts of video games and movies. Customizing involves taking parts from other action figures, combining
them with your own personal touches, and creating a brand new figure. There are guides and tutorials
here to help you learn how to make your own customs and a large custom action figure gallery with detailed
write-ups of parts used for each custom action figure. Check out the Customizing Links section for all
sorts of information, forums, and products related to the hobby. Enjoy your stay!


--- John Mallamas (aka Jin Saotome)
---
Recent Custom Action Figures
The thumbnails of custom figures below are ones I've created recently in the last month or so. Check my Ebay auctions to see which ones are currently up for sale this week. Sometimes I make extras but usually they're one of a kind. Check the Custom figure gallery and you'll find the entire list of all my customs made since the beginning. They're in alphabetical order and categorized. Email me if it's an older figure you're looking at and want to know how I made it. Please note I do not take commissions at this time. Any updates on commissions will be posted in the future.
---
*My Ebay Auctions This Week*
Looking for custom action figures? Click your favorite series below to be taken to this week's offerings!
---
The Dangerous Toys Daily Spread!
Instead of updating my actual site every day, my LiveJournal here does that for me! You'll find my daily updates, whatever is happening around here, and other nifty tidbits. And best of all you can talk to me direct! You don't have to sign up to LiveJournal either, anyone can post. So step right up to the Daily Spread and tell me what's on your mind!

---
ToyFare Magazine Customs
---
Product Reviews

---
Customizing Guides

---
Customizer Auction Sales on Ebay, the C.A.S.E. Files!

With so many cool customizers out there and so many cool customs showing up on Ebay... how does one keep track? How do you catch the figure you want before it disappears? I'll tell you how, open the C.A.S.E. Files! It stands for Customizer Auction Sales on Ebay, a network that lists auctions from many different action figure customizers like myself so anyone can easily browse through and find what custom action figures are being sold. Anyone who sells their custom figures through Ebay can join and the page will be updated regularly with new artists that make some of the coolest customs this side of the universe! You'll find auctions from all sorts of figures from Marvel, DC, video game, movies, and more. Check it out!


---
Cosplay Items
---
Friends of JSDT!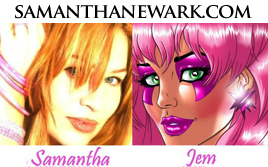 ---
Advertisements

A quick word about the ads here. They're actually USEFUL ones! You know how you'll be browsing a site about Transformers and suddenly see that you can get a discount on your next manicure or where to purchase an aboveground pool? Not here. All the advertisers I list here, I shop from. I won't send you to any fishy online stores. Do a search for Transformers on Walmart, I snag all sorts of great deals and older Transformers figures pop up there all the time. Need a set of Marvel Legends figures? Hit Entertainment Earth, they have complete sets at retail prices so you won't need to hunt for that missing BAF part. If you're stuck in the middle of nowhere like I am, online stores are a lifesaver!


---
While I'd love to take commissions for custom figures, I just don't have the time to make them for everyone. Right now I'm only selling my custom figures through Ebay, so check my auctions link at the top every week to see if there's a custom figure of mine you want to bid on. This is the best way I can play it fair to give everyone a chance at one of my pieces. Want to suggest a figure I should make? Want to critique my work? Got questions on how to customize something? Just drop me an email!

---